Please email us at Sales@sunsgh.com if you would like a current price list.
To place an order, please email Sales@sunsgh.com.  Orders can also be faxed to 801-373-7434.  To reach us by phone, please call 801-377-2477.
Wholesale only! We are closed to the public.
CONSIGNMENT
We are offering consignment sales to garden centers on all our outdoor plants and hanging baskets.  We are hoping that this program will give you confidence to continue to purchase product and keep your garden center fresh and beautiful.
When placing your order please write the term "Consignment" on your order.
The consignment period is 30 days from the date of the invoice.
Any unsold product, needing credit, before the end of the 30-day consignment period, needs to be noted on the original invoice and a copy returned to us.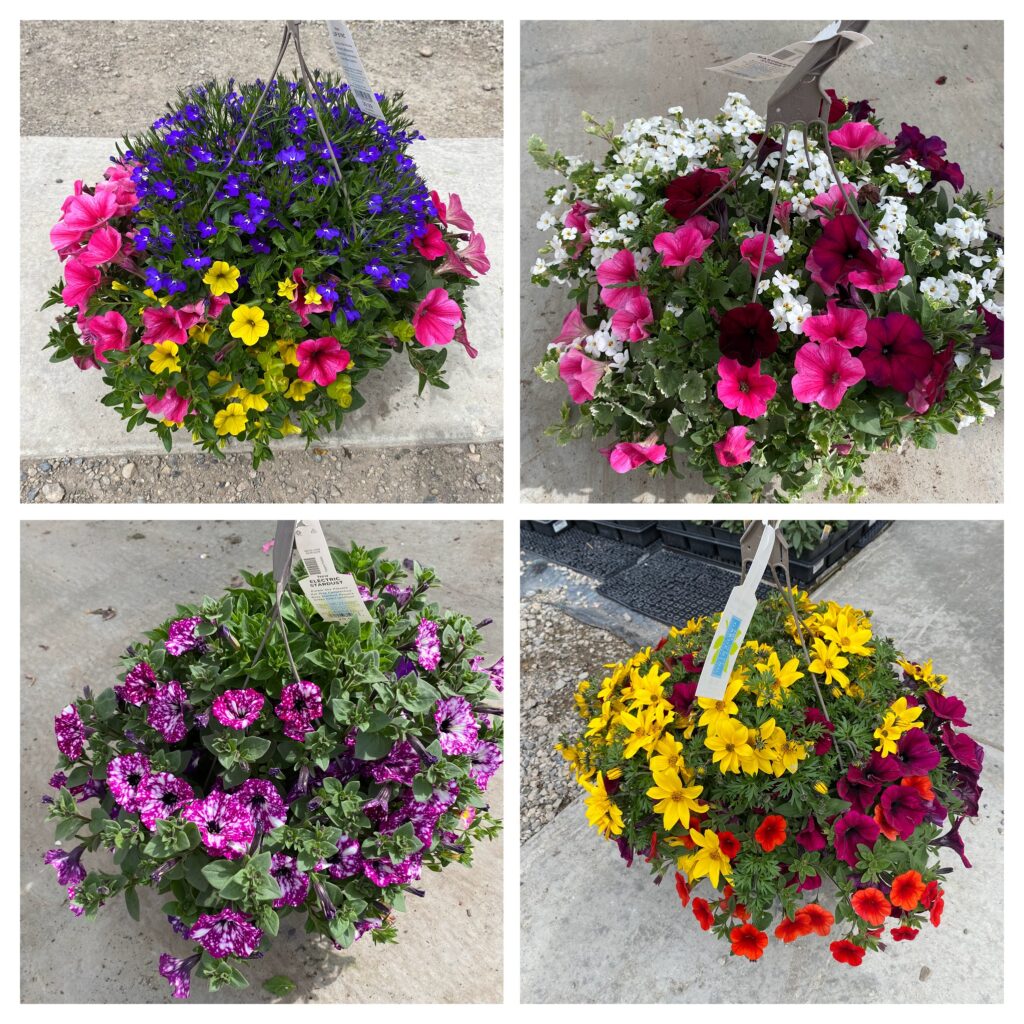 Our baskets look great right now!  Top Left (clockwise): Lip Sync, Raspberry Sorbet, Mambo Mixmaster, and Sparkle Purple.
Click on the link below to access a copy of our current availability.
We are excited to announce an update to our online ordering!!!
New! You can now use a tablet or phone to place an order. Also new, order acknowledgements will be emailed automatically for orders placed online. 
Choose the online ordering tab to get started. We recommend setting up a username and password ASAP because these must be approved by the office.
Advantages of placing orders online:
View a LIVE availability
Fewer shortages
Order anytime… available 24/7
Other notes:
Best times to place an online order: Sunday evenings or Wednesday evenings. We suggest you avoid Monday and Thursday mornings because things sell out so quickly it could cause lots of errors when trying to submit the order.
Note: Outdoor products are sold in flats. Ex. 1 = 1 flat. Indoor foliage is sold by the each count. Ex. 1 = 1 pot. If ordering 3" standing foliage, make sure you order in increments of 24, mixed flats are allowed. If ordering 4" standing foliage, make sure you order in increments of 10, mixed flats are allowed. Ex. 5 angel vine, 5 baby tears = 1 flat.
We are hopeful this new program will be easier to use than past versions. If you have any feedback, don't hesitate to reach out to us.
Utah & Idaho Orders:
We are now delivering twice a week.
Tuesday/Wednesday delivery:  Orders are due by Monday at 10 a.m.
Friday/Saturday delivery:  Orders are due by Thursday at 10 a.m.
We are open Monday through Friday 8am to 5pm.
Wholesale only! We are closed to the public.